---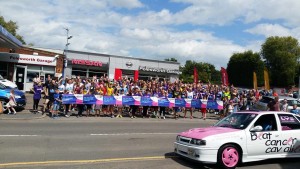 The 3rd running of The Office at Warton Fun Run, now called The Office ABBOTT Run, took place on Sunday 11th July.
The event is organised jointly by Polesworth Garage, and The Office Pub at Warton, in order to raise money for Cancer Research.
This year's event was especially poignant given the sad loss of one of our runners from the first two events. Local girl Karen Abbott, was diagnosed with Cancer in August of last year, and died in March. Karen was instrumental in ensuring that this event carried on this year, and in her memory we decided to change the event name.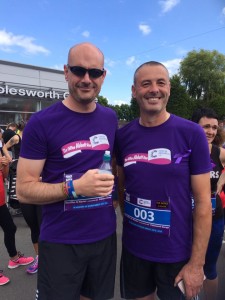 Karen was also a big supporter of other local charities such as Simon's Heroes and many of their number, came out to support the run.
In the end 278 men, women and children ran or walked the 5k course from Polesworth Garage to The Office Pub, many of whom were decked in commemorative t-shirts.  A good number of people came out to support us on the route too.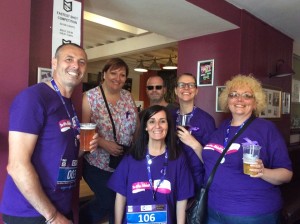 Back at the pub fundraising continued, with young Mitchell Clark shaving his hair off and raising £156, whilst John O'Dwyer, school friend of organiser Andrew Marven, raffled off a car that his company Coalville Tyres & Exhausts had prepared.  A £10 raffle ticket to win a £1000 car, and John raised a fantastic £932 !
The fun continued and a 75 prize raffle was drawn, and the music continued into the evening.  A wonderful day was had by all, and in doing so a tremendous amount was raised for Cancer Research.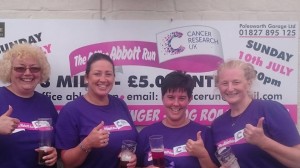 Organisers Amanda Busby and Andrew Marven, of Polesworth Garage, would like to take this opportunity to thank everyone that contributed to the day, and made it such a special day.  Polesworth Garage cover all the costs of the event, so that every penny raised goes to Cancer Research!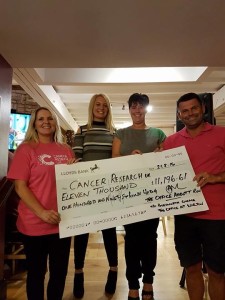 On Sunday 21st August they were proud to reveal their final total for this year.  After all the sponsor money had been collected in, and Polesworth Garage's generous donation of £2000 had been included, they were able to issue a cheque to Cancer Research of £11,196.61.  Bringing the total amount raised by this event in the three years since its inception, to a staggering £27,728.67!
If you are reading this and didn't take part, you missed out on a great day.  Sunday 9th July 2017 is the date for your diary next year.
See you there. (The Office Abbott Run Facebook Page)
#letsbeatcancersooner