Special Occasions - Class A - Class B - Class C - Class D - Class E - Class F
---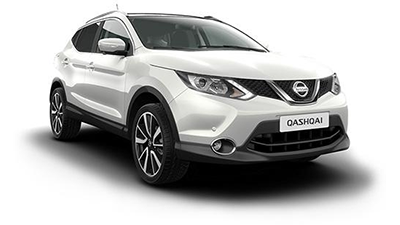 Class C - Nissan Qashqai Or Similar*
Intermediate, 4-5 Doors, Manual or Automatic, Air Conditioning
5 Passengers
2 Large Suitcase, 2 Small Suitcases
Manual or Automatic Gearbox
55 Miles/Gallon
110-130 g/km CO2
From Only

£44.95

per day
Class C Car Hire Form
We offer simple pricing and easy access to some of the best value hire cars in Tamworth.

Fill in the form below.


---
Class C Hire Cars
Hire cars from within Class C are our main "Intermediate Car", substantially larger than our Class A & B cars and offering plenty of boot space for carrying larger quantities of luggage. Our intermediate cars are well suited to longer journeys, holidays and day to day living. With a larger road presence you'll find motorway driving a pleasure and there's plenty of space for kids, if you have any. You should expect to achieve 50 miles to the gallon if you drive gently.
---
*Important: The images shown are examples only. We regard 'or similar' to mean that you may or may not receive the vehicle shown above. It may be fitted with a different package of extras than that advertised. However, although it may be a different car, it will be similar in size, specification and performance to that shown. The exact vehicle you rent is determined by those vehicles we have in stock at the time of rental.